VHS to DVD | Slideshows & Montages | Image Scanning | Custom DVD & Blu-ray
Video Tape Transfer
VHS, s-VHS, VHS-c, s-VHS-c, Video8, Hi8, Digital8, and miniDV (standard definition) are video tape formats* we transfer to DVD.
Because Multimedia Memories specializes in custom work, we have a two-step process for converting video tapes to disc. First, we capture the video to a digital file on computer via firewire. After any desired editing is done, we write the completed video to disc.
The advantages of our two-step process:
Editing is done prior to the video being compressed to DVD format. Many straight-transfer companies will tell you that you can edit the video off the DVD. And you can. But it is rather like making a copy of a copy of a copy. You WILL lose quality.
If you prefer to do the editing yourself, we are happy to provide you with raw, high quality digital video files. No need to figure out how to rip a file off a DVD!
If you are not sure what's on the video, we can alert you to surprises or potential problems that you might like corrected before it goes to disc.
Even if you're sure you won't want the video itself edited, our two-step process allows for the creation of a personalized DVD. Imagine a DVD menu with your title and pictures, a navigable menu with photo thumbnails or even video thumbnails pointing to meaningful chapter points.
Because this is our standard process, we don't charge the high fees other studios do for capturing to digital file.
*Other tape formats, including miniDV tapes recorded in HD, we can transfer if you provide the camcorder or other playback device.
---
Custom Work

It's what we do best, and why we're different. Our specialty is everything that transforms your photo and video into something new and special, as opposed to just a transfer to a different format.
We love creating a product that is special and unique for your treasured memories. Our favorite service is a photo slideshow & video montage. This custom work does not follow a formula and, as a result, is as difficult to quantitatively measure as are your memories. While it involves a great deal of technology, it is art. It is created just for you, and, to our knowledge, is unlike anything our competition does. Check out some examples  from our portfolio.
Whether it's something as simple as custom chapter markers (you'll want them) or cutting out the times you left the camcorder recording on the coffee table (trust, us, you did), or the ten minutes your kids recorded cartoons over your home movies (sure, blame the kids), we think you will want more than just a straight transfer to DVD.
That's why we love what we do.
---
Professional Scanning 

We offer high resolution scanning of slides, photos and negatives with color correction and Digital Ice technology.
How high a resolution? Enough for a good quality 8x10 enlargement of your original image.  We don't automatically scan everything at the same resolution. We do what makes sense based on the size of the original image. If you have little wallet-size picture, we'll scan it at a higher resolution than we would a large portrait. If you need something scanned in even higher resolution, just let us know & we can adjust the settings for your desired purpose.
Images are properly rotated and color corrected.
For newspaper or magazine clippings, we digitally remove the stippling / halftone dots that show up with consumer scanners.
---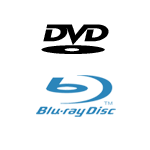 DVD and Blu-Ray
Multimedia Memories offers creative custom authoring, disc duplication and bulk DVD production.
We have a selection of high-quality discs, such as waterproof glossy DVDs that look stunning when printed, and archival grade gold DVDs that hold up against fingerprints, scratches and years of storage.
Disc authoring is one of the many benefits of a custom studio. The straight video tape transfer to dvd that most companies offer will give you a basic auto-play disc.  It has the limited functionality of that video tape, but without the need to rewind. It's really not much of an improvement.
A Multimedia Memories custom DVD can offer you so much more. For example, a navigable menu with video thumbnails highlighting the important events means you won't have to fast forward searching for that special scene.
Our Blu-ray capabilities mean you can transfer the footage from your HD camcorder without a loss in resolution or quality. And you can order copies to share.